Turn-key solution
KRASSKY began 17 years ago with a desire to change a stagnant interior design market. Today we are an international company providing a full portfolio of interior services and supplies. We have completed projects in many of the world's most exclusive, demanding and design-literate locations including London, Monaco, Miami, Moscow, Riga, Vienna, Cyprus, St. Petersburg, Mallorca and Zurich. Consequently, our team has experience and knowledge of the specific challenges of working in the EU, US, Russia, Monaco and Switzerland.
We have team of more than 110 highly skilled professionals, most of whom have at least 10 years of experience in their particular field of expertise. This is part of what allows us to provide a complete range of interior design services from the development of the initial concept through to its implementation, encompassing along the way the supply of all necessary products and materials, fit-out and installation, as well as strict management and supervision of the project.
It is our conviction that the best interiors emphasize and express the personality and lifestyle of their users, which is why we create individual solutions for each client. We firmly believe that good design improves quality of life and that whatever its specific nature, each design should be durable and functional.
How does the Turn-key project work?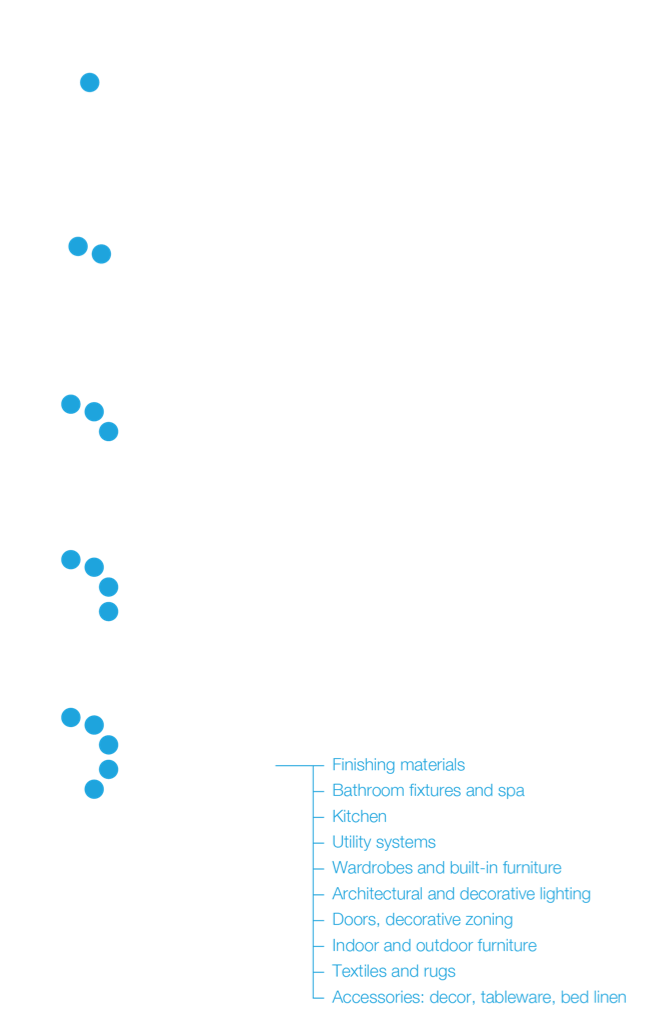 Efficient project implementation is achieved through professional project management and timely delivery of goods and services. Turning the ideas of the client and interior designers into reality is carried out by our team of professionals consisting of highly qualified craftsmen, logistics specialists and experienced project managers. Working with meticulous attention to detail on complex projects is our speciality.
View Turn-key projects.